Start with the spoiler. Yes brand matters to learning content. Yes you should care. But probably not for the reasons you think. Because, oh talented learning creator, this is about way more than simply whacking a logo on your learning material to keep marketing happy.
Let's begin at the beginning. What even is branding, and why does it matter to learning creators? Because we get it. Some of you just don't see how branding enhances your learner's experience. And why should you? You're learning experts, not branders.
So, let's break it down.
A brand is your organisation's identity. But that doesn't mean your visual identity. A brand is so much more than that. Instead, your brand represents all the interactions someone has with your organisation, and how they feel about those experiences. Every single touch point with your organisation contributes to your brand.
Brand is really a fancy marketing word for a carefully curated reputation. Bottom line, your organisational reputation impacts on your revenue. So, brand covers all aspects of your business, from the way you greet your customers, to the way you educate your team. Smart brand experts understand the truest expression of your brand isn't your advertising, but what people say about your organisation when you're not in the room.
What does it mean to consider brand in learning?
Because brand is so all encompassing, every aspect of learning content can be considered through a brand lens.
Key elements of brand that impact learning include:
Your organisational values. How your people behave. Learning influences behaviour.
Your cultural commitments. For example, if your organisation embraces Te Ao Māori as part of your Te Tiriti commitments, you can introduce more Māori into your learning or use whakataukī to express ideas.
Your key messages. How you talk about what you do, who you serve, and your mission as an organisation. Learning content must be aligned with core brand messages.
Your unique value proposition. How you differentiate your organisation from your competition and stand out in the world. Learning content is a fantastic opportunity to demonstrate your brand's unique DNA and inspire your team by sharing ways to communicate that differentiation.
Your brand stories. The stories you tell about your organisation matter. And the stories you tell in learning matter because they make learning more relevant to your people. Use learning scenarios that reinforce your brand identity.
Your voice and tone. The words you use, and the way you talk. Is your brand irreverent and humorous, or serious and formal? Your learning content should match.
The experience people have with your organisation. In learning, this aspect of branding manifests in two ways. Are the behaviours you teach aligned to your brand? And does the user experience you offer enhance your brand? Is your learning easy and intuitive to use, and enjoyable to engage with? Is it fully accessible?
And finally, your visual brand. Learning content is a key manifestation of your brand, so it should always be visually consistent with your brand.
As you can tell from this list, popping a logo on your PowerPoint template and calling your learning content branded is kinda basic, and you, friend, are not basic.
5 key benefits of considering brand in learning
Considering branding in learning isn't just about keeping your corporate overlords happy. It helps you out too. Here are five reasons why branding benefits learning creators.
1) Brand consistency = trust. Brand is created through repetition, repetition creates familiarity, and familiarity creates security. So, by branding your learning content you create a sense of trust. This helps improve buy in and reduce barriers to learning, both crucial to get the behaviour change you seek.
2) Brand consistency reduces friction. Learning is hard work. Content that feels unfamiliar is hard work. Our brains resist hard work as a survival mechanism, in an effort to conserve energy for fight or flight. Your goal is to remove barriers to learning. One way to reduce cognitive load is by making learning content feel familiar through brand.
3) Create a sense of belonging. A strong brand identity can foster a sense of pride and connection. Employees are part of a tribe with shared values. Including branding in your learning harnesses their emotional bond to your brand.
4) Create relevance. Not only does branding signal to your team that learning is coming from a place that's safe, familiar and friendly. Brand storytelling, in the form of familiar scenarios, shows people learning content is for them, and that it matters in their lives.
This is probably the main reason why brand is so important to learning. If your learning doesn't feel relevant to your organisation, if your language is jarring, if your visuals lack the polish your team are used to in other internal comms, if a learning scenario is too far-fetched to be real, your learning may not create the behaviour change you want.
5) Create emotional connection. Branding taps into our desire for community, love, power, and pleasure. Using emotive branding in learning can trigger feelings that make learning more engaging and memorable.
In short, incorporating branding makes learning more trustworthy, relevant and sticky, which sounds suspiciously like a win, win, win situation to us.
Why your marketing team are your new besties
You may not think you care about branding. You may have filed branding in a corner of your mind labelled 'marketing shite,' and fair play to you. If no one ever explained why branding matters, why would you care?
But remember branding is your organisation's reputation. And the quality of your brand defines whether your organisation flourishes or fails. Which directly impacts on you.
If your marketing team are clued up, they'll already be working closely with you to bring your organisation's brand to life through learning. Strong brands are built from the inside out.
Learning is marketing's secret weapon because your team are key touchpoints for your brand. Incorporating branding in learning can help make sure your team are clear what your organisation does, what you stand for, and how they're expected to behave. Quite simply, branding in learning makes your people better advocates for your organisation.
From a marketer's perspective, most branding exercises are aimed at customers, so learning presents a creative opportunity to bring brand to life internally. Learning content also represents an opportunity to evolve and experiment with a brand in a low risk environment. High profile external comms like advertising are scrutinised, and this can make organisations less open to trying new things. Learning's a safer testing ground for new branding ideas.
But how about learning and development managers and designers? What does partnering with marketing on branded learning have to offer you? Well apart from potential access to marketing's bountiful resources (insert Machiavellian hand rubbing emoji here) you also get to benefit from their considerable smarts. Marketers are experts in persuasive communication, both verbal and visual, and their collaboration is sure to elevate your learning game.
Best practice for integrating brand into learning
When we confab with learning designers about brand in learning, some of them don't see the point. Others are firm fans, for all the reasons we've stated. But guess what they all have in common? They've all been scarred early in their learning development career by having to shoehorn learning content into heinous branded PowerPoint templates.
We feel your pain. So, we figured we'd ask our brand specialists for some tips on best practise for integrating brand into learning content. Because PowerPoint isn't part of the play.
First up, brands should always enhance the delivery of a learning experience. You should never feel like you're compromising your learning content by integrating branding. Nor should you feel like you're cramming branding into learning in an awkward way. Your organisation's brand needs to be flexible enough to adapt to learning content, and if it isn't, collaborate with your marketing team to evolve your brand to be fit for purpose.
Your learning design tool must also be flexible enough to accommodate all visual aspects of your brand. Chameleon is designed to be fully customisable, from simple tasks like incorporating logos, to including your brand colours, fonts, graphics, and images.
Brand consistency is important, but that doesn't mean all learning must be identikit in tone and appearance. You may not want your health and safety training to look and feel the same as your diversity and inclusion learning or your leadership development. Yes, an element of consistency creates familiarity and coherence, but you need the flexibility to adapt your branding to your audience and their learning goals.
You're looking for opportunities where branding and learning elevate each other. For example, using real life scenarios relevant to your learners that also build your brand with compelling story is a win win. Featuring learning messages from people in your team makes learning feel personal and builds team spirit by encouraging recognition and relationships.
Conversely, poor learning content can damage a brand. For example, fully responsive digital learning experiences that are attractive, easy, and enjoyable to use, are now a must have. We're such sophisticated digital consumers, we've become intolerant of poor user experience. So, learning content that isn't responsive is unacceptable for your brand.
How Chameleon helps you integrate brand into learning
Chameleon is one of the few learning development tools where you have full control over your learning content's brand look and feel. Flexible brand customization is one of our key points of difference. You can authentically brand all your modules to reflect your organisation. Another key strength is Chameleon's focus on best practise user experience informed by research.
Our resources give helpful advice on aspects of branding like storytelling in learning, applying learning experience design principles and accessibility in e-learning design.
Chameleon is built for learning developers who aren't designers. It's easy to adapt learning content to incorporate your brand and create a really good user experience. Our clients often tell us they're not designers, but they know they can make a good looking branded learning experience with ease. The tool's as fool proof as we can make it. You have to try really hard to make learning designed with Chameleon hideous and horrid to use.
More proof that Chameleon is nailing brand. Our clients' marketing teams have started to show interest in using the tool to make comms for external audiences. If those image conscious dudes are confident enough to use Chameleon for their customers we must have brand look, feel, and user experience sorted.
Inspiration. Who's nailing brand in learning?
ANZ empowered their whole team to create learning resources, with spectacular results. A suite of simple templates helped internal subject matter experts create digital learning with internal branding guidelines applied.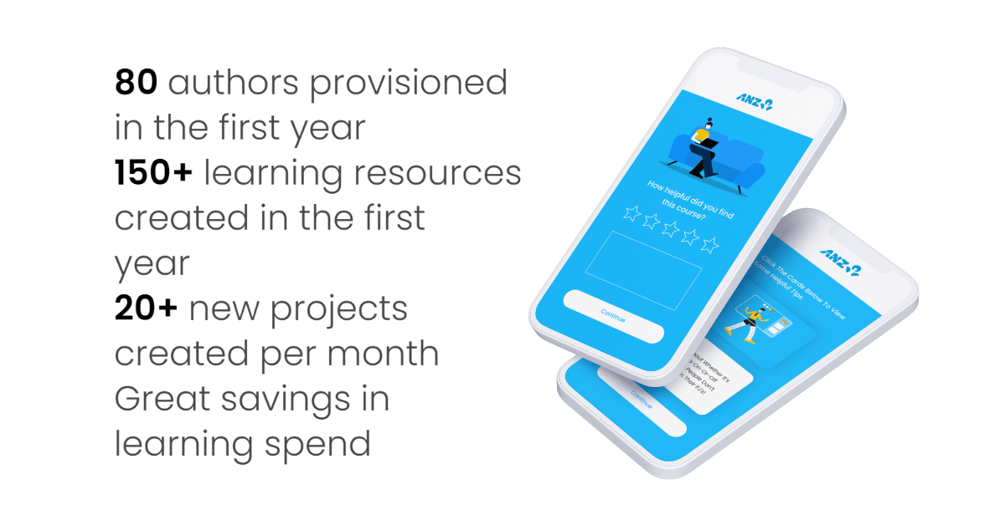 When online learning experts etrainu choose Chameleon for their branded content platform, you know you're doing something right. They've found it simple to use and simple to navigate, with beautiful results.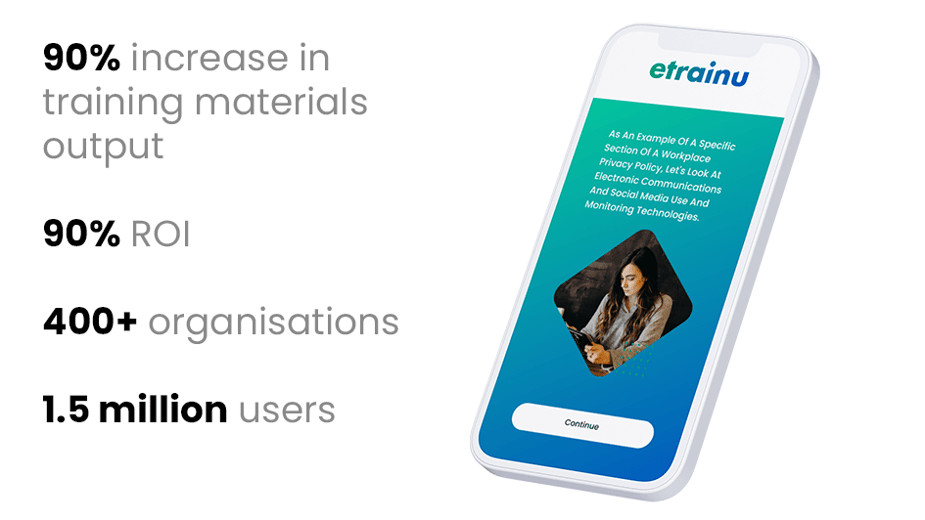 Contact Energy reduced spend with learning vendors and increased production of learning content, all while keeping everything beautifully on brand.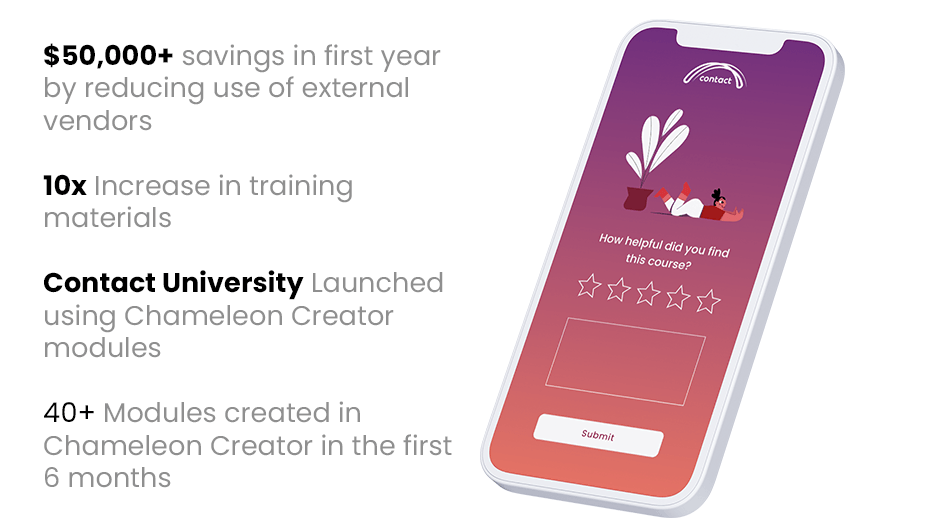 Brand your learning and give your learning a boost
Brand is hugely important to your organisation. Not incorporating branding into learning is a lost opportunity. Not only does it reduce barriers to learning, but you're missing an opportunity to use a space you own to build your internal culture and elevate your brand.
Brand is so much more than a logo, a colour palette and a family of fonts. Sure, those details create important consistency, but brand is really about a deeper emotional connection.
If your organisation has created positive emotional associations with your brand through treating your team well, investing in them, and building strong relationships, then your visual brand's a trigger that makes people feel positive recognition and trust. It creates an emotional connection that gives you a head start. And that's mighty handy for you and your learners.
What to read next:
Need a bit of help creating visually amazing looking learning content? Check our blog:
How to make illustrations in learning work for you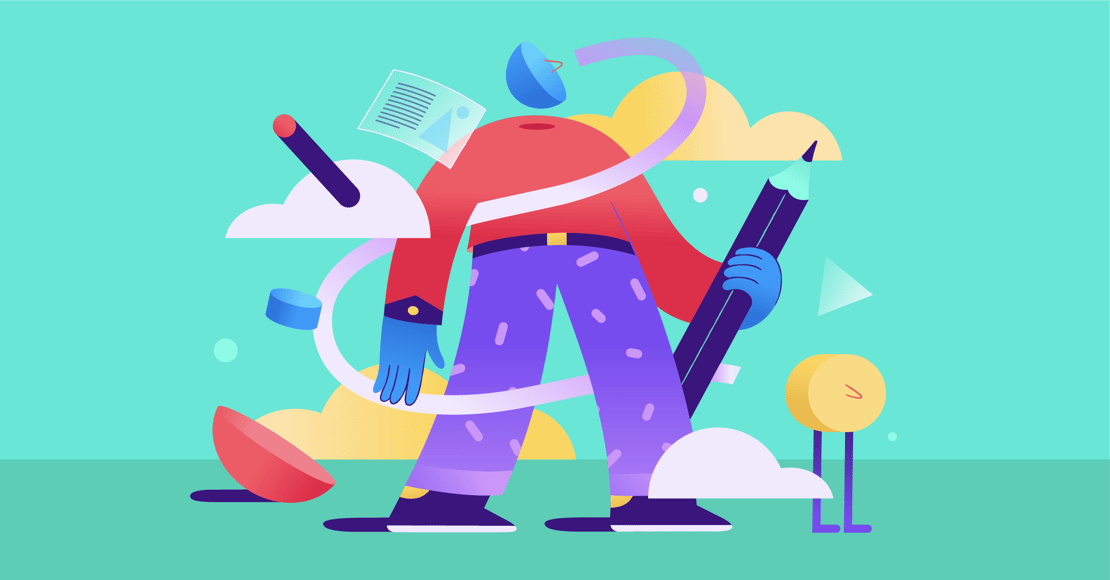 Want to learn more about Chameleon Creator?

View a demo

In our 10 minute recorded demo, we'll show you how to build and publish your own module.