Simple, flexible, and fast - How Chameleon has helped ANZ to create rich, digital learning content
80 authors provisioned in the first year
150+ learning resources created in the first year
20+ new projects created per month
Great savings in learning spend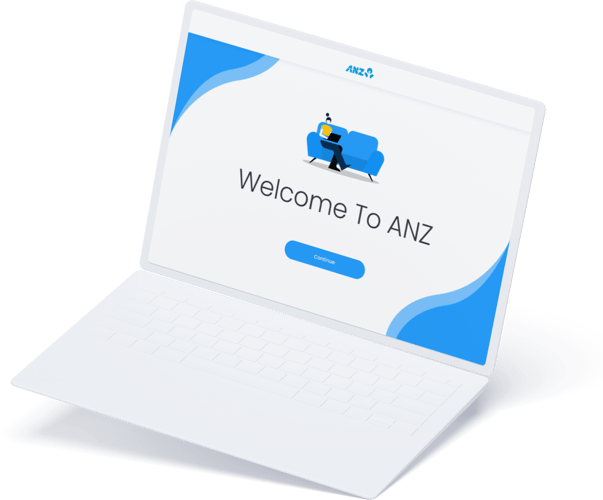 Background
With a high demand to create large volumes of bespoke learning content, a new approach to developing digital learning content was required. When they found Chameleon Creator, they knew they had discovered a tool which would make keeping up with the business's learning demands possible, while also saving them a lot of time and money.
Read on to find out how Chameleon Creator allowed ANZ to:
empower internal curators to create digital learning with internal branding guidelines applied

apply interactivity through the use of the Chameleon interaction wizard

engage directly with internal stakeholders to create and modify learning content quickly and easily through the use of the preview link

upload SCORM files to an LMS and LXP with ease.
Introduction
Through industry and business exploration, ANZ discovered that they needed to offer a solution to cater for a wide range of learning that is on-demand, accessible and relevant. The solution needed to offer personalisation so that it could be used across the organisation, customisation so internal branding could be applied and have the smarts to create learning in a variety of formats including digital bite-sized learning tasks, online modules, knowledge checks, articles and communications.
"My response when we discovered and implemented Chameleon Creator as our chosen authoring tool was… At last! Finally! We have a solution! There was a sense of relief that we'd found a tool that everyone in the organisation could easily use to curate their own learning content. I have years of experience in using Articulate Storyline, and I knew that we needed a tool that was intuitive to use and it's been great to find that in Chameleon Creator."
The challenge:

increasing learning demands and sourcing a tool that would allow internal creation of digital learning content
Without the resources internally to produce digital learning, apart from a few who had other content authoring tools, it was difficult to meet the needs of the business. Traditional ways of learning like classroom delivery needed to be adjusted, where necessary, to online digital formats so that all employees across ANZ could access learning.
The solution: a DIY eLearning authoring tool that anyone could use enterprise wide
Chameleon Creator – an easy-to-use authoring tool that creates beautiful digital learning assets!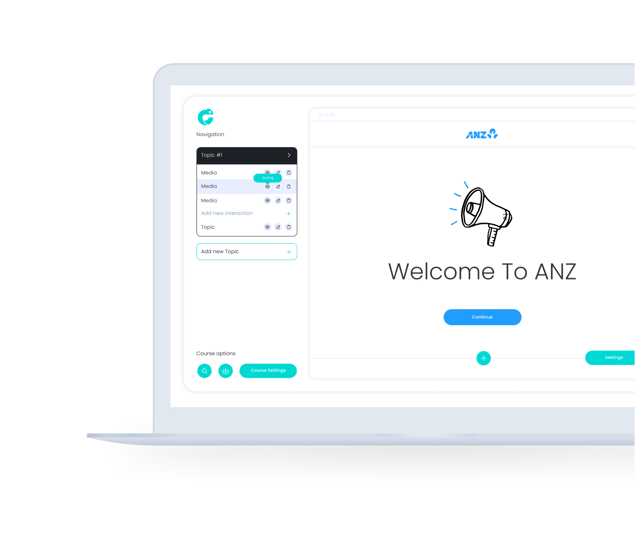 Achieving rapid updates and onboarding...
ANZ introduced Chameleon Creator and word of mouth quickly spread about how intuitive it was to create beautiful learning content. The great news story was that it was so easy to learn with the functionality so simply laid out that it required minimal knowledge to start developing content. As an option, training videos were developed by the Chameleon team and made available for the curators to upskill prior to jumping in.
… and global popularity as Chameleon Creator launched across countries
With ANZ being a global company, Chameleon has been launched across 5 countries including Australia, New Zealand, India, Philippines and Fiji. The curators who have access to Chameleon have access to a great support team at Chameleon Creator who answer any enquires raised and provide guidance where required.
The benefits of bespoke learning content
As Chameleon has been launched into the different countries, the benefits of digital learning content being created and customised is being realised. Chameleon Creator has provided the opportunity to move from the delivery mode of the traditional classroom environment and PowerPoint presentations to interactive digital content customised for the learner as a new way of learning.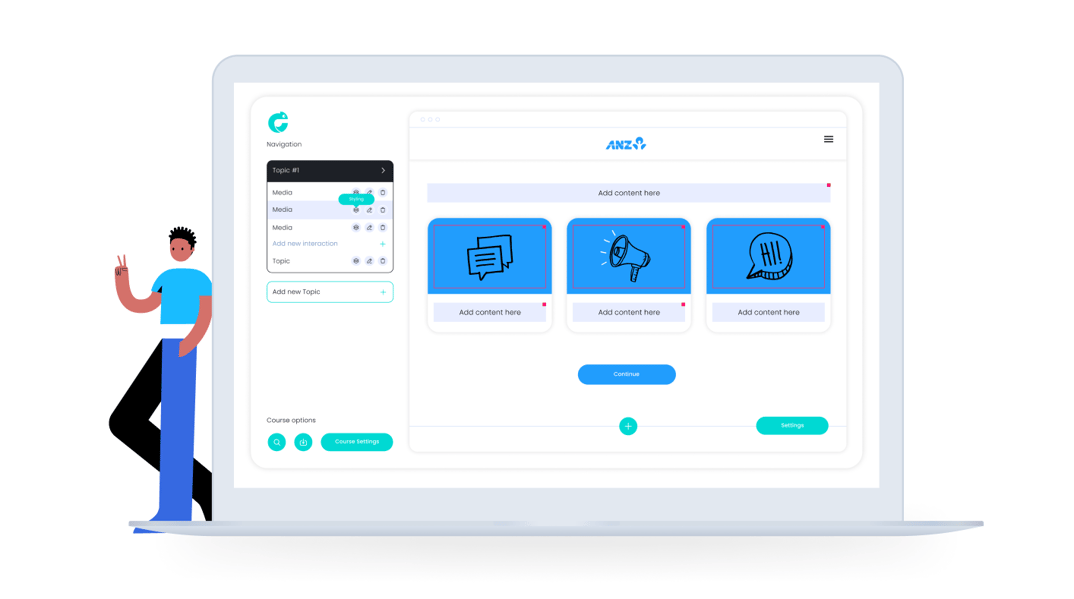 "To those considering purchasing a Chameleon Creator licence I'd say, "Just do it!" . It is so valuable in terms of ease of use and self-service and being able to curate and create bespoke content across the organisation. When compared to our other options, there are few overheads and it's light-touch compared to other systems that we'd considered and managed in the past."
The results: a great success story
The impact for ANZ has been significant with great savings seen in learning spend from both a design and time to deploy perspective.
Additionally, new design capabilities are being built across the organisation, where curators are learning to create rich and engaging digital learning content.
Coupled with this, the features available on Chameleon (such as the duplicate module feature and the auto save options to name a few) saves such a considerable amount of time and effort.
Chameleon just makes everything so simple and easy for us and we are so thankful to the Chameleon creator team for creating such a fabulous content authoring tool to meet our needs.
Learn how Chameleon is enabling companies worldwide to respond to business needs faster, and create better learning experiences.
Why book a demo?
In our 30 minute demo, we'll show you:
• Some beautiful example modules

• How to use the intuitive editor

• The built in image library

• How to publish your finished modules.

• How to show off your brand