ANZ achieves huge ROI by adopting Chameleon Creator
350+ Chameleon Creator users/authors at ANZ in first year
300+ learning resources created in Chameleon Creator in the first year
20+ new projects per month
250% savings by reducing use of external vendors to create learning
500% increase in training materials output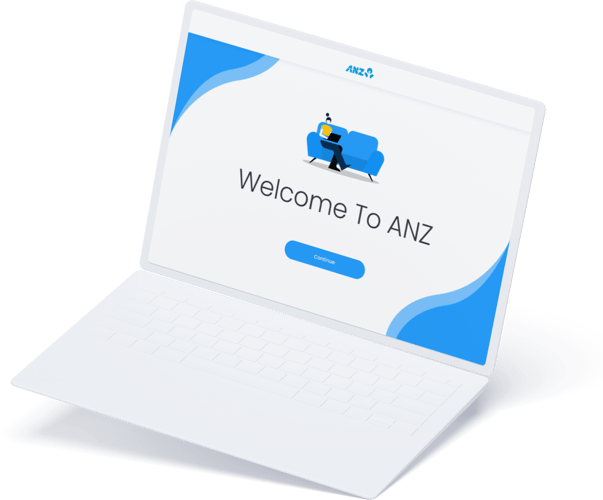 The ANZ Capability Team were under massive pressure to create bespoke learning content for their stakeholders across the organisation. Existing authoring tools were too complex for their employees to use and create learning content themselves, and having external vendors create all of their learning content was time consuming and very expensive.
So they searched for a solution and Chameleon Creator has been just the tool they've needed to ensure the business can keep up with their learning demands and also save them a lot of time and money.
"My response when we discovered and implemented Chameleon Creator as our chosen authoring tool was… At last! Finally! We have a solution! There was a sense of relief that we'd found a tool that everyone in the organisation could easily use to curate their own learning content. I've had years of experience using Articulate Storyline, so I knew we needed a tool that was much simpler to use, and it's been great to find that in Chameleon Creator."

Jenny Shankland - ANZ Employee Journey Expert
The Story of the ANZ Capability Team
When consulting with their stakeholders, the ANZ Capability Team needed to produce a lot of different types of learning content to cater to a wide range of learning needs and learning styles.
ANZ needed to provide their stakeholders with education tools in a variety of formats including eLearning, bite-sized learning, assessments, articles, communication pieces, etc.
Internally they didn't have the tools to produce the different types of learning content, so they had to go out to their external vendors. They'd engage with vendors and have to go through the whole ADDIE process and back and forth with feedback and amendments to create each and every learning asset. This was a time consuming and expensive process, but the ANZ team didn't have any other choice.
ANZ considered hiring people that were skilled in using Articulate Storyline or Captivate programmes to create the learning content internally, but it was unsupported in ANZ. It was also very expensive to purchase and maintain licenses for every user.
Out of the above two options, they preferred to use external vendors, which was a huge cost when considering each piece of learning content they needed to develop across the business.
The increasing learning demands at ANZ and their DIY solution to reduce increasing vendor costs
The ANZ Capability Team needed to find an alternative solution to their massive spending on external vendors to create most of their learning content. The solution came in the form of Chameleon Creator, an easy to use authoring tool that could make beautiful digital learning assets, and was so easy to use, anyone could intuitively start creating content right away.
The team started to train some of their stakeholders to start producing their own learning content using Chameleon Creator and it just took off. ANZ now have over 350 users that they call Curators with access to Chameleon Creator, and it's completely opt-in. The ANZ Capability team has done nothing to promote the tool, and it has just exploded in popularity across the global company due to word of mouth.
Demand across the business for Chameleon Creator:
The uptake of Chameleon Creator across ANZ has been so successful that the challenge now is to ensure all of the new Curators can build effective learning assets. Word spread fast across the organisation on how much of a great tool Chameleon Creator was, and everyone wanted it. This meant that the Capability Team has had to work fast to up skill Curators so that they're equipped to build great learning content.
ANZ have an enterprise license, so this allows them to provide anyone in the business that has a learning need with access to the tool.
International adoption of Chameleon Creator:
Currently they have five countries with access to Chameleon Creator and their challenge is that they can't get it out there quick enough. They've recently launched out to the Philippines, Fiji, Australia, NZ and India.
Fiji for example had significant bandwidth issues. They had 20 projects in the pipeline, so there was pushback on adding Chameleon to that list. The ANZ Capability Team rallied to the HOD of Capability in that area by explaining the benefits of Chameleon and eventually they got approval in one week. They could see the huge benefit of Chameleon because Fiji needs to do lots of specific up-skilling and the content has to be customised so that it is relevant to their remote environment and for their Pacific audience.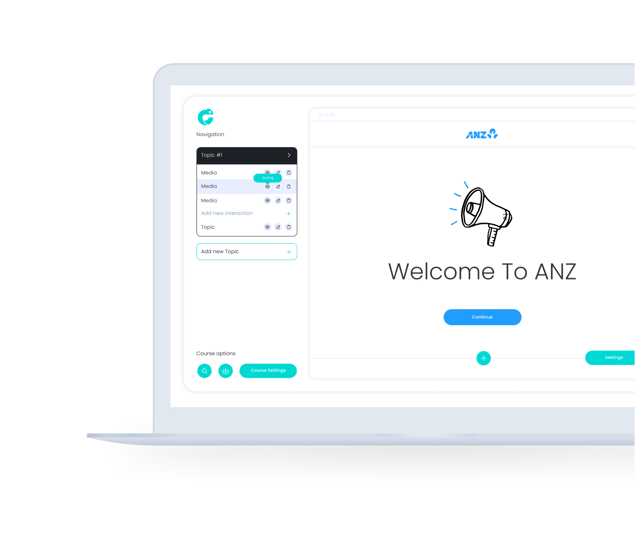 Why ANZ Chose Chameleon Creator
One of the key reasons ANZ adopted Chameleon Creator was because it is simple to learn and easy to use.
Anyone can intuitively learn to use Chameleon Creator with minimum knowledge. They didn't want to purchase a specialist-learning tool such as Articulate Storyline – they wanted an authoring tool that all of their stakeholders could use. Because of the ease of use, ANZ employees across the business can make beautiful eLearning content for themselves.
It's been a huge success story for ANZ. If they didn't have this tool, they'd still need to go out to those external vendors to produce content or buy off the shelf programmes.
How ANZ uses Chameleon Creator
The impact has been huge; every part of the organisation is now using Chameleon Creator. ANZ employees have developed hundreds of learning assets, including compliance training, assessments, comms and tests.
The ANZ Communications team is also looking at it as a tool that they can use to disseminate comms pieces because it looks so good, and it's easy to use, it's not just for learning.
In-house experts:
Some ANZ Curators have become real experts and innovators in how they're using Chameleon Creator and designing learning content. The ANZ Capability Team is hosting show case sessions where these top content producers can show off the modules that they've created.
Duplicate great content:
The ANZ team has found huge value in their ability to simply duplicate their best modules and adjust where necessary rather than starting from scratch. It means that not only do they achieve brand design consistency, but save a lot of design and development time.
Looks beautiful:
A huge benefit for ANZ has been how great the learning content looks without needing to engage a graphic designer. ANZ have their own internal image and asset library and access to the Chameleon Creator illustration library, so they can make their content look really professional without needing to engage graphic designers.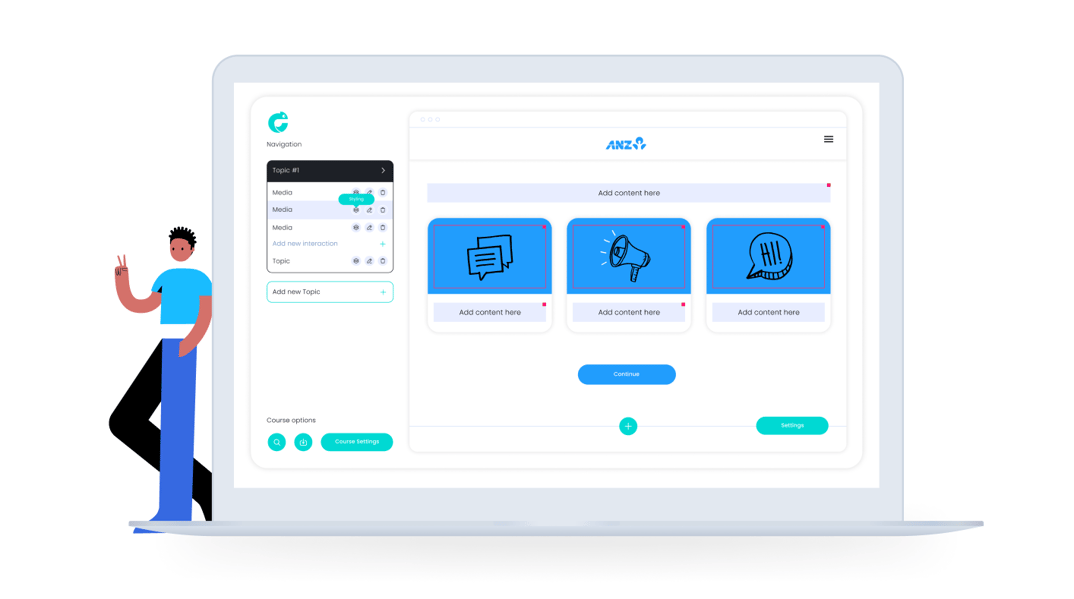 The Results
"To those considering purchasing a Chameleon Creator license I'd say, "Just do it!" It is so valuable in terms of ease of use and self-service and being able to curate and create bespoke content across the organisation. When compared to our other options, there is very little overhead and it's light touch compared to other systems that we'd considered and managed in the past."

Yasmina Cajdin - Product Owner - Talent & Culture at ANZ

Massive Return on Investment (ROI)
Chameleon Creator has provided ANZ with a massive ROI, and huge cost savings. The ANZ capability team is now providing a whole range of Curators internally with access to the Chameleon Creator tool, allowing them to curate their own learning content, which means that they now depend a lot less on external vendors.
Benefits over other tools
Some areas of the business are struggling with Articulate Rise as their learning content had been produced in earlier versions and since it's been upgraded they need to go back to vendors to update the content, which causes massive issues for them. But using Chameleon Creator means ANZ can always update our own content, and have access to the most current version of the tool.
Sharing videos internally
ANZ had big issues with regard to hosting and sharing videos internally. Some ANZ leaders would be filmed and then needed to host and share on public platforms such as Vimeo for ease of sharing with staff across ANZ, but this posed a number of privacy issues. Now across ANZ they are able to share videos using Chameleon without these hosting and privacy issues.
Great support:
Chameleon Creator has got the support bot available and that goes directly to the development team where anyone can lodge a questions and within 24 hours get a response on their issue and it's resolved. This means that the 350+ Curators across ANZ can be self sufficient with their learning development.
Chameleon Creator is constantly evolving in terms of the features. When ANZ provides feedback from their Curators, the Chameleon team listens, and puts those features in the product pipeline. A hugely beneficial value-add is that the Chameleon team has supported ANZ in their up-skilling sessions and helped train their Curators in using the tool.